REN
REN IN A NUTSHELL
REN pioneered the concept of Clean Bio Active Skincare.  Skincare that uses the latest, clinically proven actives, is free from skin-unfriendly synthetic ingredients and is gorgeously pleasurable to use.
REN boosts the skin's natural ability to protect, repiar and renew itself leaving skin beautifully healthy and radiant.
REN CLEAN BIO ACTIVE SKINCARE – SKINCARE AS IT SHOULD BE
NO
PETROCHEMICALS
SULFATES, PARABENS
SYNTHETIC FRAGRANCE
SYNTHETIC COLOURS
T.E.A, D.E.A GLYCOLS
SILICONES, PEGS
ET AL
NEW PRODUCT: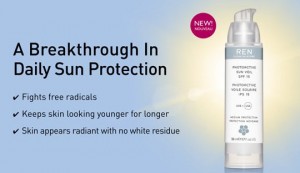 REN Photoactive SUN VEIL SPF 15
Not just a chemical free sunscreen, it also incorporates an anti ageing active, to firm and revitalize the skin….
RRP £26.00